The description of your average adventure bike nowadays reads more like a prototype fighter jet than a motorcycle. Lean angle sensors. Computer-controlled braking systems. Microscopic gyroscopes and accelerometers smaller than a fingernail that detect your bike's position in space on six separate axes. Guided missile systems are still an aftermarket-only upgrade, but everything else is standard equipment on the current crop of ADVs. You can even get integrated radar systems on certain Ducatis now that monitor the position of surrounding traffic and adjust your speed accordingly. But do we really need all that? The folks at Yamaha seem to think not if their flagship Tenere 700 is any indicator.
That's because while damn near every other major manufacturer on the planet has rolled out a middleweight ADV that's loaded down with the latest tech, Yamaha Tenere 700 returns for 2023 with zero electronic enhancements to speak of for the third year in a row. Save for standard anti-lock brakes and a button to turn off as needed, this bike is pure wrist control—no more, no less.
Are electronic rider aids, touchscreen dashes, and smartphone connectivity really what we need, or is all this sophistication just muddying the waters of good old-fashioned two-wheel travel? I'll let an off-road tour aboard the 2023 Yamaha Tenere 700 be the judge.
Our Test Route
I'd been itching for an opportunity to put some serious miles on a Tenere since its launch, especially after spending a week in South America this year riding the latest and greatest Ducati Desert X. I finally got the chance to do so this month, riding from Gateway, CO, down through the off-road mecca of Moab on a bone stock 2023 Yamaha Tenere 700.
You name it, this route had it: 135 miles of steep slickrock climbs, fast-flowing dirt roads, loose and gnarly gravel descents, and low-speed rock crawling.
For your typical adventure rider, this is the perfect test. Take a painfully average motorcyclist (yours truly), put them on a showroom-spec adventure bike, then turn them loose for a full day of riding around the limits of their comfort zone in terrain most ADV riders will rarely, if ever, attempt on their all-terrain rigs.
So how does the T7 hold up in the rough stuff? Long story short, I'm convinced it's still the best buy out there for 99 percent of prospective riders. Here's why.
1. Performance
Yes, performance. Of the current crop of middleweight adventure bikes, the Tenere makes the least power, the least torque, and has the least sophisticated (aka non-existent) electronics suite. Good.
It's packing 73 horsepower, 49 lb-ft of torque, and a throttle delivery so buttery smooth it would make Paula Deen foam at the mouth. That's about as close to a perfect formula for middleweight off-road work as you could ask for, and Yamaha knows it.
Add in the fact that the T7 puts down 90 percent of that torque from as low as 1,600 rpm and keeps it there right up to its claimed 8,000 rpm horsepower peak and you'll start to understand why real-world users really couldn't ask much more of this engine once the pavement ends and the dirt begins.
As for the tarmac? We already know Yamaha's CP2 parallel-twin engine is an absolute hoot on the street, as the MT-07 has been a well-documented wheelie machine since it hit the streets back in 2014.
No, 73 horsepower won't deliver the same straight-line acceleration thrills that the KTM 890 Adventure or Ducati Desert X can and will. Still, just like its MT07 stablemate, there's a distinct pleasure to be had riding a simpler bike at the peak of its ability rather than chasing the dragon on a bike that runs circles around you.
Related: Best Motorcycle Training Course Tips for Riding Your ADV Bike on Dirt
Speaking of ability, one more point to note on the performance piece here: I was joined on my test ride by four-time AMA Motocross Champion Ryan Villopoto, who spent the day absolutely ripping for 10 straight hours aboard a stock Tenere 700.
Over the course of the day I watched Villopoto drift the T7 around corners at speeds that would be illegal on California freeways. I saw him climb vertical rock walls that you'd need a rope to ascend on foot. I lost count of the amount of time he spent flying through the air or just hanging out on the back wheel.
Are there more capable bikes out there? Absolutely. Is the bike the limiting factor? Absolutely not. Which brings me to my next point…
2. Yamaha Tenere 700 Will Make You a Better Rider
There are two kinds of motorcyclists in this world. Those who want electronic rider aids for performance reasons, and those who need them for safety reasons.
I am firmly seated in that second boat, and I'd wager the overwhelming majority of us are on the same ship if we're being honest with ourselves about our skill level and the terrain we actually ride.
To that end, sophisticated traction control and other advanced rider aids are an extremely useful crutch to help average riders tame above-average machinery, but they're a crutch just the same. Tenere kicks the crutch out from underneath all who climb aboard, forcing us to learn fundamental skills like wrist control and braking rather than learning to rely on advanced sensors, gizmos, and whizbangs to do the tough stuff for us.
And that's not to say Tenere is a tough bike to ride. In fact, it's without a doubt one of the easiest bikes to ride offroad I've ever thrown a leg over, which is exactly what most new ADV owners should care about in the first place.
Over technical uphill rock gardens, the bike tractors over big steps with ease, happily lugging around in the lower revs without ever getting jerky or threatening to stall when the pace slows to airport security line speeds.
Around fast-flowing dirt corners, the back end steps out predictably with a twist of the wrist. The bike feels incredibly planted and secure, and there's never any question about how much or how little traction is on offer underneath you.
Related: The Best Side-by-Side UTVs of 2023
I'd chalk this up to Yamaha's absolute homerun of a chassis, which is arguably the most important element of any adventure bike. The geometry, balance, and weight distribution all feel spot on for off-road duty, which is something you can't fix in the aftermarket.
Is it a bit softer than something like the industry-leading WP suspenders on the KTM 890 R? Absolutely. Is that a bad thing? Not necessarily.
Look, if you're a hard-charging rider with a background in something like motocross, enduro, or aggressive trail riding, you may actually be able to find the limits of the Tenere's adjustable KYB suspension. What you won't ever find, however, is that a lack of more sophisticated damping or stiffer springs will ever keep you from getting where you want to go, terrain be damned.
3. Reliability
And now, for the steamy portion of our review, let's talk about where the Tenere unequivocally leads in the ADV segment: reliability.
Tenere's CP2 powerplant may not be the most exotic proposition when it's time for a ride, but there's never any doubt it'll get you where you want to go. At this point the bombproof reliability of Big Blue's parallel twin has been proven beyond the shadow of a doubt: 10 years of production and counting without a single major known issue.
As is the case with all parallel twin engines, the CP2 benefits from a comparatively low number of moving parts, reliable lubrication, and a tough-as-nails crankcase. With that said, Yamaha stands apart from the competition in two major ways: Valve service intervals and compression ratios.
Valve services are typically the most expensive maintenance you'll have performed at the dealership, but in true Yamaha fashion, the Tenere only needs to go in for a checkup every 25,000 miles. That's about 10,000 miles less often than Suzuki's latest VStrom 800, and a 6,000+ mile improvement over both the KTM Adventure and Ducati Desert X.
As far as I'm concerned, this speaks volumes to the build quality of Tenere's engine. Yamaha pulled this same feat with the notoriously high-strung R6 back in the heyday of street-going supersports. Its confidence in the integrity of the T7's valve train goes a long way toward peace of mind in my eyes.
Related: 2023 Ducati Scrambler Review: A Bike for the Next-gen Rider
As for the compression ratio piece, Yamaha Tenere 700's 11.5:1 compression ratio is by no means low, but by modern standards, it's the lowest in the business. Other competing middleweight ADVs sport considerably higher ratios of 13:1 and above, which makes for better power but at the cost of additional stress on the engine.
This, along with the Tenere's simplified electronics, translates to more time spent riding and less time spent at the dealership, both in terms of scheduled service and all the annoying little issues that come alongside new tech and comparatively untested designs. KTM may lead the charge in terms of outright performance, but as a litany of owners will tell you, they also lead the charge in time spent ironing out issues in the service department.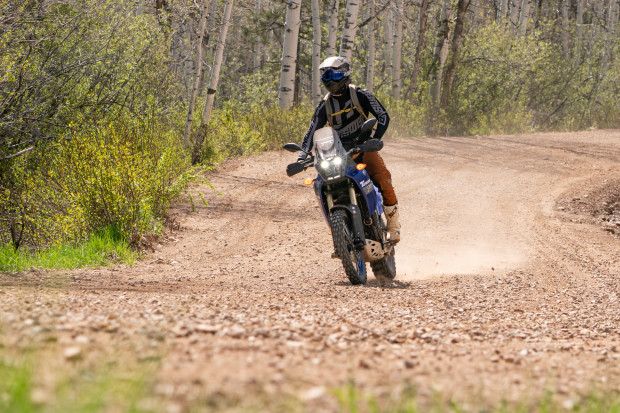 4. It Looks Damn Good
I'd like to take a moment to argue that Yamaha is flaunting the best-looking package on the market with Tenere 700. Its athletic stance, sleek LED headlights, and rally-inspired bodywork are pure Dakar-chic—a far cry from the polarizing styles littering the segment from other manufacturers.
I'd give the Desert X a close second here as Ducati's neo-retro homage makes for an awfully handsome offering, but aside from that, adventure bikes as a whole need some serious work. Everything else out there just looks angular, awkward, and unnecessarily pointy, which isn't the kind of package most of us want to whip around in public.
5. Last But Not Least: Let's Talk Price
At a starting MSRP of $10,499, Yamaha Tenere 700 is still the most affordable middleweight ADV money can buy. Prices vary wildly in the segment, with Ducati's Desert X leading the charge at a whopping $17,100, and KTM's Adventure R following close behind at $15,200.
Both performance and price taper off from there, but the closest current competitors in terms of MSRP are the new Suzuki Vstrom 800 at $11,360 and the Aprilia Tuareg at $12,300. Honda's new Transalp 750 is expected to hit U.S. shores in the near future around $11,500 or so, but the jury is still out on that one so let's agree to play it by ear.
In addition to MSRP, there's also the aforementioned cost of maintenance. Less money spent at the dealership also means more more money in your pocket. Whether that money stays in your account or goes toward the typical upgrades like engine protection, handguards, luggage, and navigation is entirely up to you, but it's an attractive price nonetheless.
Of course some us have more foldin' money than others, and I'm not here to shame anyone out of buying what they want. All motorcycles are fun, but there's really no coherent argument out there stating that the T7 is the highest-performing or objectively "best" option money can buy.
For my money, however, I'm going for the Tenere. It's easy to get lost in the spec sheets looking at horsepower and suspension travel or in mainstream reviews lauding how much better a bike is "when you really push it hard."
As an average rider of average skill, I know damn good and well that Tenere 700 is more capable than I am at the moment. Should I ever get to the point where I'm "pushing so hard" that I need better suspension, stronger brakes, or more power, I'll have plenty of money left over to buy all three when the time comes.
Truth be told, even if I were a dyed-in-the-wool off-road savant, I'll always be the kind of rider who appreciates a bike that's worry-free, cheap to maintain, and proven beyond reproach. The Yamaha Tenere has always been all of those things since the first one rolled off the production line, and I sincerely hope that never changes.
Let's Talk Shortcomings
Clearly I'm a big fan of Yamaha's Tenere 700. After riding it through all manner of off-road terrain, I came away utterly impressed by its confidence-inspiring nature, competent chassis, and no-frills functionality. This is a big 'ol dirtbike in the purest sense of the term, albeit an exceptionally well-engineered one that's better on the pavement than any dual-sport I've ridden.
However, its budget-friendly build does have a few faults. If you're considering buying one yourself, here's an average rider's take on its shortcomings.
First thing's first: While the simple on/off ABS switch on the dash is as basic as they come, anytime you shut the bike off, the ABS comes back on. Forgetting to switch it off before tackling a loose downhill section can put a serious pucker in your hindquarters (ask me how I know), which gets annoying over the course of a long day.
Second: The Brembo brakes work great for off-road duty, but they come up short on the street when you pick up the pace. Feel at the lever is extremely progressive, which helps to keep the front end in check over the loose stuff, but feels a bit soft under hard braking, even for someone like myself.
Third: Yes, the suspension is softer and less advanced than the kit you'll get on premium-priced bikes. As I mentioned above, this will be a plus for many, as it translates to a less jarring ride over gnarly terrain at lower speeds, but if you're a skilled off-road rider, you'll likely find the limits of travel when going fast into choppy sections or taking Tenere off jumps and drops.
Again, this isn't the kind of thing that will prevent you from going anywhere a KTM goes, nor is it the kind of thing most of us will notice unless we're already operating at a high level of skill or coming off a more aggressive rig. Should you choose to upgrade it down the road, K-Tech offers a popular upgrade kit for both the front and rear of the bike that will only set you back about $700, or you can get a full ensemble of top-shelf components from Ohlins or Rally Raid that's already tuned for your weight for around $2,500.
Finally, there's the dash. Part of me loves Tenere's simplified LCD dash, but part of me knows that the Euro-spec models are now getting a full-color TFT display that links up wirelessly with your smartphone. I could care less about the Smartphone connectivity if I'm being honest, but considering the price of Tenere 700 has increased from $9,999 to the current $10,499 MSRP—although the bike has had zero functional updates—I can't help but get a little salty on this point.
Should You Buy One?
All things considered, these are small gripes for an otherwise exceptionally well-engineered piece of machinery that looks damn good and will confidently take you anywhere on the planet you want to go. While the Yamaha Tenere 700 may leave a few premium features off your wish list, there's really no denying it's everything you need and nothing you don't, regardless of your skill level or budget.
Does more money make a better bike? That depends entirely on what you value and how much bike you actually need. Is Yamaha T7 still worth every penny? There's no doubt in my mind.